Meet Bessie Badilla the First Filipina Carnival Queen in Brazil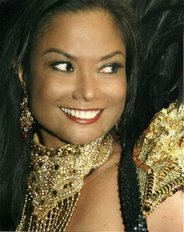 DANCE OF MY LIFE is a video documentary that bears witness to Bessie Badilla's poignant story, from her humble childhood in the Philippines, to a celebrated stint as a model for the House of Balenciaga in Paris, and her personal battles as a wife and mother in suburban Connecticut.

Just when life seems to come crashing down on her, Bessie is invited to star in the Carnival in Sao Paulo, Brazil - an unprecedented feat for a non-Brazilian made more significant by the fact that she is a woman "of a certain age."

DANCE OF MY LIFE features never-before-seen Carnival footage as three Samba schools allow the crew backstage access to their closely-guarded preparations and introduce Bessie to the meaning of Carnival.

DANCE OF MY LIFE is simultaneously funny and poignant, a mesmerizing conflation of Carnival's intoxicating life-force, and a woman's determined journey to own herself.

---


Watch the encore presentation of DANCE OF MY LIFE on Friday, November 16, 2012 at 7:00pm at the Kalayaan Hall of the Philippine Center located at 556 Fifth Avenue (between 45th & 46th Sts.) in New York City. This special repeat presentation is being held for the benefit of "Kabisig ng Kalahi" a feeding program for malnourished children in the Philippines (go to www.kabisigusa.com for tickets and information).

DANCE OF MY LIFE premiered at the First New York Hell's Kitchen Film Festival in September 2011 where it was the surprise box office favorite and the Festival's top grossing film.

It opened the Chicago Filipino American Festival held at the historic Portage Theater in Chicago in November 2011.

DANCE OF MY LIFE was shown at the Thessaloniki International Documentary Market in Greece on March 12 to 19, 2012.

It was presented as the Opening film at the Honolulu Filipino American Film Festival held at the Doris Duke Theater on April 21, 2012.

DANCE OF MY LIFE was shown to a sold our audience at the 2012 Cinemalaya Independent Film Festival on July 27 at the Cultural Center of the Philippines.

It was presented on August 3 and 4, 2012 at the Alliance Francais in Singapore.