The Production Team
DANCE OF MY LIFE is a 75-minute video documentary that was shot in Brazil, the Philippines, the USA and France by an international team headed by Lydia Benitez-Brown (Producer/Director/Writer) whose past credits include the award-winning "Batibot" (winner of the Prix Jeunesse and the NY Film and Video Festival) - the Philippines' best-loved children's TV program.
Rii Kanzaki is Technical Consultant and Off-line Editor. Martin Rey Aviles of Brownsugar edited the documentary in the Philippines. Philippine footage was provided by Noel Anonuevo (Unit Director) and Mayee Fabregas (Associate Producer) with Manie Magbanua, Jr. on the camera.

DANCE OF MY LIFE features an unforgettable performance by Valquiria Ribeiro, one of Brazil's top stage and TV personalities who eloquently explains the meaning of Carnival. Paolo Montalban, a well-known movie, stage and TV actor provided voice-over translations of the Brazilian interviews.

Video footage was shot in Sao Paulo (Brazil), Paris (France), New York and Stamford (USA) and the Philippines for DANCE OF MY LIFE. Post production took place in San Francisco, California and Makati City, Philippines. Audio post production was done at Echo Mountain Recording in Asheville, NC.

Music for DANCE OF MY LIFE was composed by Eileen Sison and Guarana Band and Nyko Maca + PLAYgROUND. Both groups are well known interpreters of Brazilian music in the Philippines. DANCE OF MY LIFE also features the theme songs of Escola Nene de Vila Matilde by Nene, Adriano Bejar and Sulu; Escola de Samba Unidos de Vila Maria's song by Dao, Veia, Martins, Nando and Moleque-Para; and Escola Vai-Vai's song by Ze Carlinhos, Nayo Denai, Vagner Almeida and Danilo Alves.

The producers also thank Renato Freitas of Winner Publicidade in Sao Paulo for his help in making DANCE OF MY LIFE possible.


---
Cultures Converge at Carnival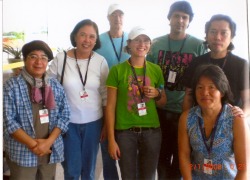 Good intentions do not make good productions. When Lydia Benitez-Brown assembled the DANCE OF MY LIFE production team to cover Bessie Badilla's participation in the Carnival in Sao Paulo, Brazil they knew it would be the most difficult 2-day shoot of their varied careers. Beto Sporkens, who headed the Brazilian crew, negotiated coveted press passes for the team giving them backstage access to the tightly-controlled staging grounds for each Escola de Samba (Samba associations representing different neighborhoods in Sao Paulo). For the 2 nights of the Carnival, only 2 members of the crew could go into the Paserela (the avenue of the stadium where the carnival competions are held). During each Escola's 60 minute parade the rest of the crew had to stake out positions for themselves and their equipment among the 50,000 spectators in the stadium. Rii Kanzaki, who flew in from Boston for the shoot, spoke no Portuguese but was often mistaken for a Brazileira (Japanese migrants in Brazil form one of the largest Japanese immigrant populations outside Japan). Raymond Lee flew almost 36-hours from the Philippines and arrived without his camera or clothes (the airline eventually located them, with only a few hours to spare before Carnival began). Nana Buxani took both video and photos for the production. Ivi Vitoriano, a young Brazileira whom Beto recruited as a production assistant several months previously, proved to be so capable she was promoted to cameraperson and provided some of the most compelling footage seen on the documentary. Like the rest of the crew, it was her first time at Carnival. It was an unforgettable experience for everyone.

---